Action
Our code of conduct
In pursuit for excellent service, we respond to the needs of the care recipients.
In responding to our superiors, subordinates and colleagues, we grow together at work.
We contribute to the society by responding to the needs of the community.
As a member of the society, our facilities are made up of support from everyone in the community. Being a social welfare corporation, aside from providing services to our consumers, we strive to fulfill our contribution to a peaceful and safe community. Each of our facilities thinks of the future of their respective local communities. By utilizing our staff expertise and equipment, we conduct different kinds of activities in line with the needs and actual state of the local communities.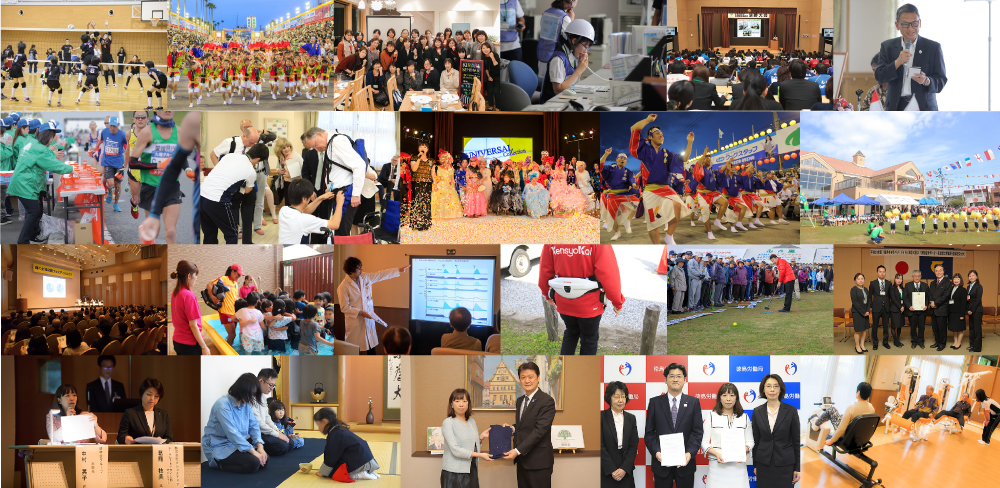 Holding lively Dementia Support Training Course
Establishment of free consultation counter (Nursing care, medical care, child rearing consultation center by KENSHOKAI) located at Tokushima City's Minami Shimadacho Shopping Center
Promoting reduced burden for consumers with low income and living difficulties.
We join as volunteer at the Tokushima Marathon
We provide services such as watching after the elderly at their homes and livelihood support services.
Information dissemination through Health Class and Prevention of Diabetes Class in relation to Nursing Care Welfare.
Supports local parenting through 'Naughty classroom', Child-rearing public lecture, Home-visit enterprise.
Expansion of salon activities among the local areas to prevent deterioration of health which leads to nursing care.
Convenience and safety – operation of regular tour bus
Striving for a peaceful and secure city, implementing research on barrier free environment
Practice of welfare education for the students; active learning and business trip course in the facilities.
Serves as a safe base for the local area in the event of disaster.
Conclusion of agreement with Tokushima Prefecture as 'Tokushima migration support company.'
Offers hospitality to those who consider migrating to Tokushima
Blood donation activities by blood donation support group
Bringing health and self-reliance (from Kenshokai Presentation) to the local communities.
Opened a multi-purpose hall for the local community.
A joint celebration for the day for the elderly and summer festival with the local residents.
Bringing health to the community through sports.
With gratitude, we participate in cleaning activities of the community
Participation in the local community festivals
Opening of Day Service Center's Pool
Kenshokai Group Ren and Kenshokai Children Ren at the Awa Odori Festival
Calling for safe driving through Traffic Safety Campaign
詳細は日本語版WEBサイトで公開しています READ MORE