Outline
We are Japan's largest social welfare corporation
With 150 offices and 3000 employees, Kenshokai Group is the nation's largest social welfare corporation.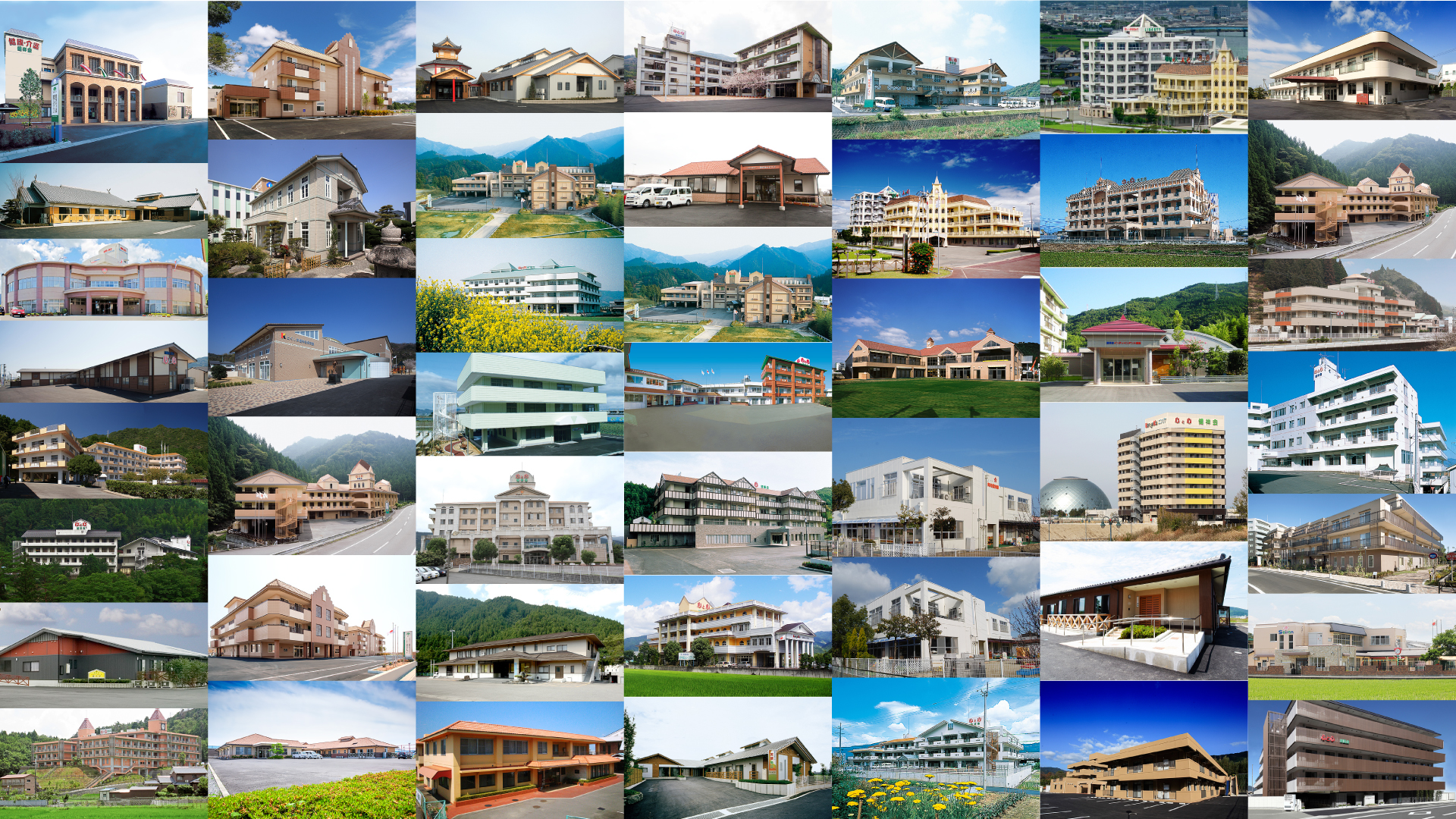 About Kenshokai Group
Kenshokai Group is an organization corporation composed of Social Welfare Corporation Kenshokai and Ryukufu. These two groups have four social welfare corporations and one medical corporation integrating nursing care, medical care and educational institutions.
Kenshokai group is centered at Shikoku's Tokushima Prefecture. Presently, there are 65 facilities, 143 offices all over the country and around 3000 employees. Since most of our clients are the townspeople and that we receive public remuneration, our company is audited under the strict supervision of the government. Since 1978, our management has been stable (with approximately 15 billion yen annual turnover for fiscal year 2017). Furthermore, we were certified as a "specific social welfare corporation" since 2017 based on the size of the scale of management and have been required to be a model for other social welfare corporations.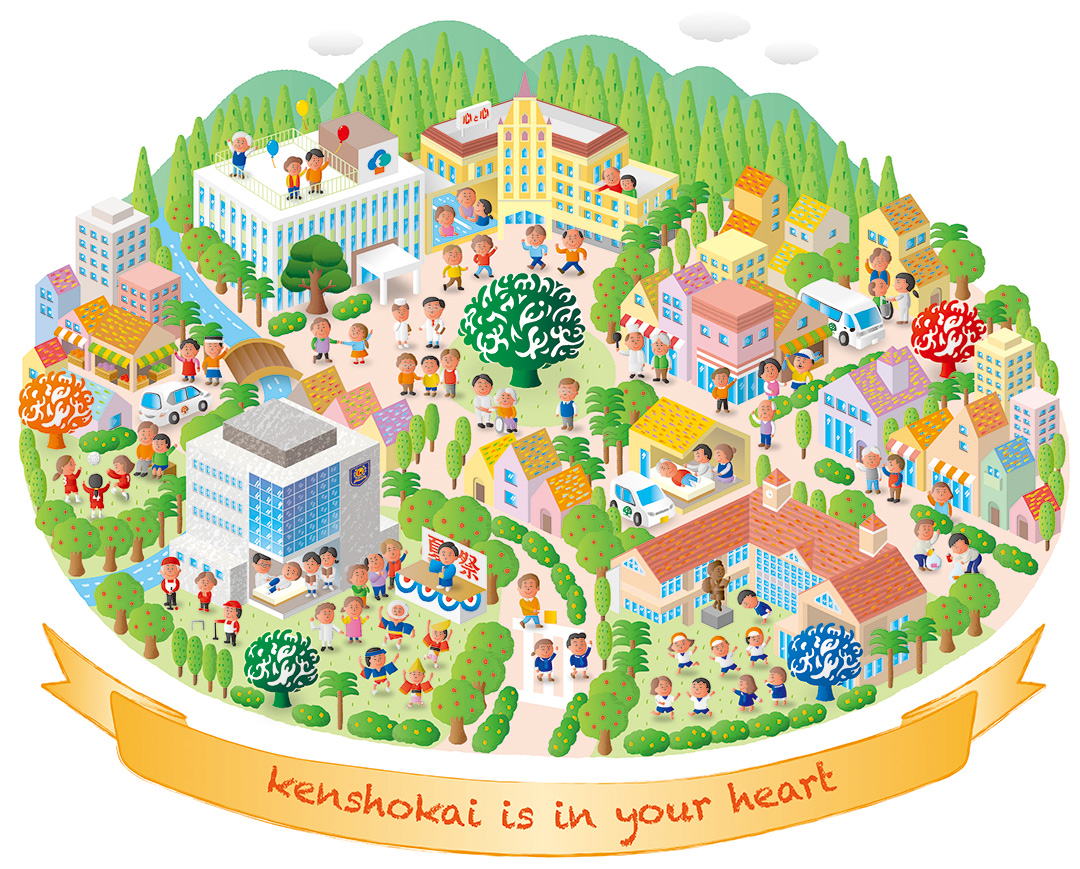 Think of tomorrow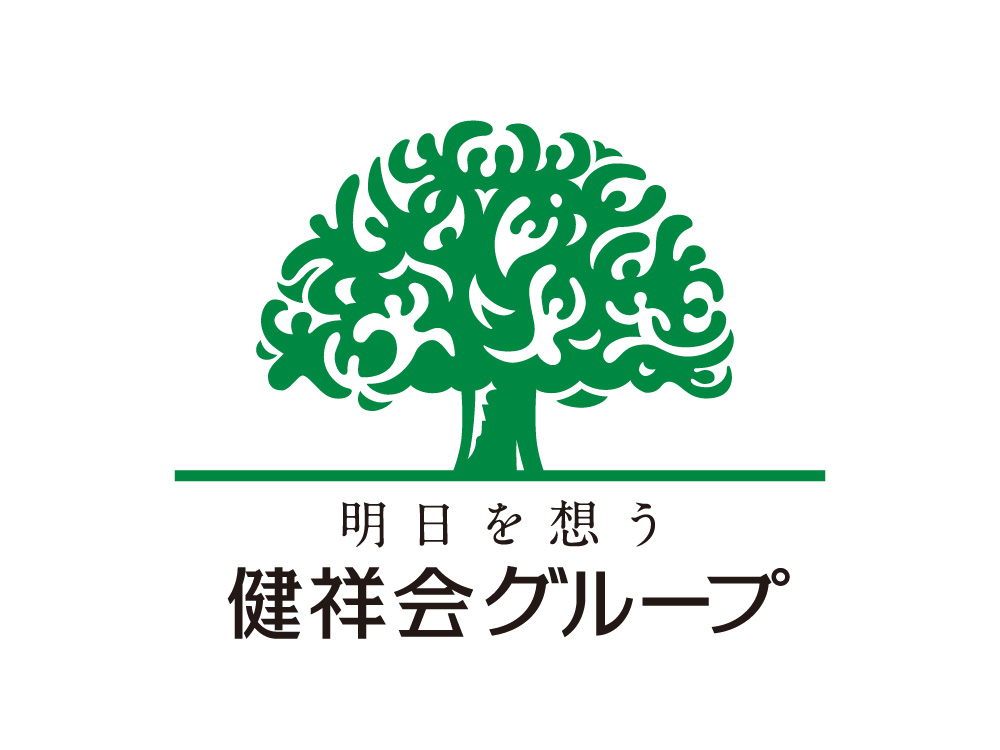 We are currently facing changes and revisions with our social security system in order to sustain the increasing low birth rate and aging society. However, no matter how the system changes, our vision of welfare is eternal. In order for the present generation to feel deep from within their hearts how great it is to live today and how wonderful life is, we aim to help the elderly, families, children, the community, and our employees to fulfill their dreams, realize their purpose in life, bring happiness and draw smiles on their faces. Established for 35 years, Kenshokai Group took a new step with "Think of Tomorrow" as our corporate message. Thinking of people, their livelihood; think of life; being grateful for the past to have a strong will for the future, we are moving to a new tomorrow.
Top Leader of Nursing Care in Japan
The Kenshokai Group with its compassion towards welfare, adhere to the words "welfare are the people, people is the heart" "Heart to Heart", started from one Special Nursing Care Home for the Elderly in 1979.
Since it's founding, in order to respond to the needs of the workplace, we've developed various services starting from managing elderly care facilities, early childhood education, human resource development and medical care while overcoming diverse regulatory barriers, and we have been expanding our enterprise widely. Furthermore, in addition to direct revenue projects, we are actively developing various social contribution activities such as public health promotion, Sports and Cultural Promotions, also we have grown to be one of the leading welfare enterprises in Japan, both in terms of scale and quality, we have expanded our field from Tokushima to Kagawa, Kochi, Osaka, Kyoto and Tokyo.
Not long ago, the social structure and economic situation in Japan changed dramatically, and so as welfare services from measures to contracts. Towards the creation of a sustainable nation as a response to the rapid aging with low-birthrate, Care and Welfare, Medical Care and Childcare are viewed as a "new growing industry", as a group of professionals which plays a part of a growth strategy in achieving a goal, a mission to open up a new era with efficiency and productivity. With the amendment of the Social Welfare Law, comes a strong demand for Social Welfare Corporations for strong governance and societal contribution, and as a top leader of Nursing Care in Japan we strive hard to enhance the transparency of the organization and improve work efficiency while continuing further reforms on the workplace to provide high quality services for the consumers.
"First, have a will…" statement raised by our founder Mr. Hirohiko Nakamura, aiming for "A society that gives light to the most vulnerable", and to have a sense of duty in fulfilling our mission to society has been carried unto us. We open up a new age, in the pursuit of "co-creation and competition", "evolution and expansion" and "gentleness"; we will strive hard to build services based on the "pursuit on quality of service, co-creation in the workplace, and focusing on societal contribution".